Vienne Lotus and Rose Toning Mist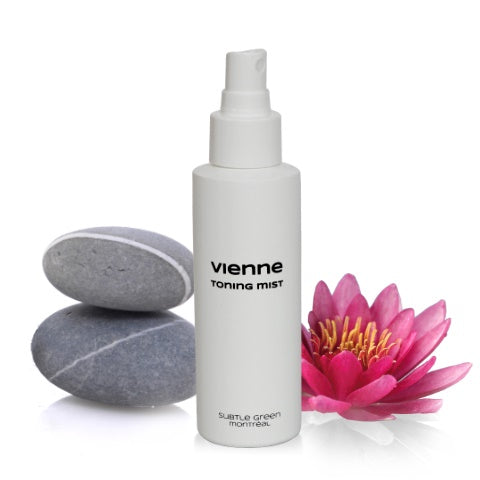 $19.95
⚶ FREE SHIPPING CANADA & USA ON ORDERS OVER $40
⚶ CRUELTY-FREE, SUSTAINABLE BEAUTY - GET IT NOW
⚶ 100% NATURAL
Light and floral, this pink lotus and rose toning mist will close pores, restore skin balance and moisturize lightly. The natural essences of pink lotus and rose promote tranquility (an added aroma-therapeutic benefit)

A delicate blend of botanicals in rose hydrosol refresh and restore skin's moisture, soften and calm skin, leaving it prepped for your daily moisturizer. Refresh your skincare routine with this invigorating toner that stimulates your skin and senses.

This combination of rose and pink lotus goes beyond skincare to bring an uplifting, positive splash to your day.

It is suitable for all skin types and does not contain alcoholic ingredients that may dry skin.
Essence of pink lotus Pink lotus tightens pores and refines skin texture
Rose hydrosol is anti-bacterial and gently purifies skin and balances sebum production
Witch Hazel, a potent anti-inflammatory and astringent, soothes skin, closes pores and increases blood flow to the skin's surface, thereby reducing puffiness and improving skin tone
Aloe and vegetal glycerin restore skin's moisture levels and protect skin's lipid barriers
Anti-oxidants in white tea help protect skin from oxidative stress and environmental pollutants

Lotus Hydrosol, Rose hydrosol, Aloe, Vegetable glycerin, White tea extract, Lemon essential oil, Radish Root Ferment Filtrate, Aspen bark extract




Formulated without

Parabens
Sulfates
Phthalates
Synthetics and fillers
Artificial fragrances

This is a 4 fl oz. / 118 ml bottle.

How to use

Use after cleansing or anytime you want an instant pick me up for skin and spirit. Carry in your purse for a quick moisture-revival when you're out for long hours. It can provide a light dose of moisture and help set your makeup when you're refreshing your make up during the day.

Shake vigorously, close your eyes and mist onto your face.
---
We're proud to bring you a powerful and healthy skincare solution with pure botanicals and essential oils.