Brigitte's Eye Cream with Hyaluronic acid and plant based Retinol alternative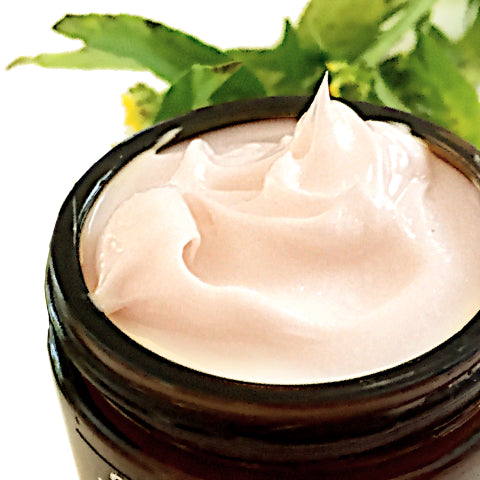 ⚶ FREE SHIPPING CANADA & USA
⚶ CRUELTY-FREE, SUSTAINABLE BEAUTY - GET IT NOW
⚶ 100% NATURAL
Formulated specially for Brigitte, this cream is designed to brighten and tighten delicate the delicate eye area. It does this with a high percentage of Hyaluronic acid and Moth bean extract, a plant based Retinol alternative to rejuvenate and tighten. Supported with a vegetable derived collagen to stimulate the elasticity and a special vitamin C to brighten, tone and brighten skin, this eye cream will bring lasting skin benefits to improve health and the quality of skin in and around the eye area.
Skin in the eye area is thinner and more delicate. It looses moisture and collagen much faster than other areas of the face. This manifests first through fine lines. Using a combination of High Molecular Weight (HMW) and Low Molecular Weight (LMW) Hyaluronic acid, the cream will pull moisture to skin and prevent moisture loss at the same time, creating a light plumping effect
A plant based retinol alternative - Moth Bean extract - helps slough away dry and dead skin cells while promoting cellular regeneration, so skin is softer, smoother and revived 
Pure vitamin C is a high-performance cosmeceuticals that combats premature aging by promoting collagen production for smoother, younger skin
Watermelon juice, cocoa butter and coconut oil are high in fatty acids to to soothe and rest tired eyes as well are reduce puffiness 

Finally, this cream is finished with essential oils of Chamomille, Lavender and Rose to calm and sooth tired eyes




Full Ingredient list:
ARGAN OIL*, ROSEHIP SEED OIL*, CAPRYLIC/CAPRIC TRIGLYCERIDE, SUNFLOWER SEED OIL*, OLIVE SQUALANE, RASPBERRY SEED OIL, STRAWBERRY SEED OIL, TETRAHEXYLDECYL ASCORBATE (PURE VITAMIN C ESTER), TOCOPHEROL ACETATE, APRICOT KERNEL OIL, SEABUCKTHORN BERRY OIL, PRICKLY PEAR OIL*, UBIQUINONE (COENZYME Q10), ESSENTIAL OILS OF FRANGIPANI ESSENTIAL OIL*, YLANG YLANG ESSENTIAL OIL*, LEMON ESSENTIAL OIL*, LIMONENE**, LINALOOL**, CITRONELLOL**, GERANIOL**
* CERTIFIED ORGANIC INGREDIENT
** NATURALLY OCCURRING MOLECULES WITHIN ESSENTIAL OILS

Formulated Without

We're pleased to say that your product is free from:

Parabens
Sulfates
Phthalates
PEG derivatives
Synthetics and fillers
Artificial fragrances

This is a 60 ml jar.

This face eye cream is suitable for normal, mature, dry or sensitive skin and any anyone that would like to try Brigitte's blend.
Proudly made in Canada we are thrilled to bring you a powerful and healthy skincare solution with pure botanicals and essential oils.