Signature Blend Anti-Aging Serum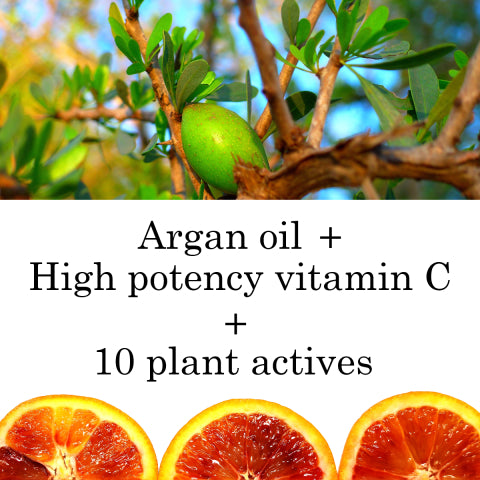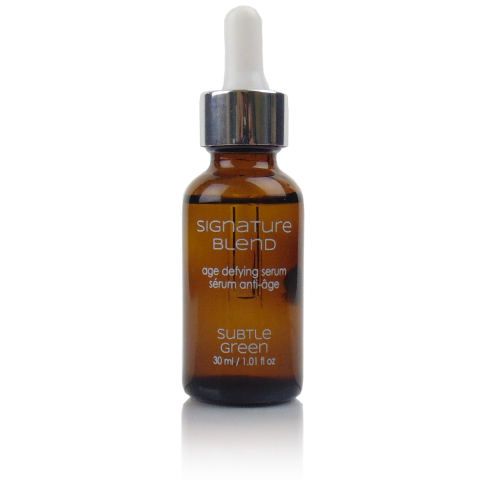 ⚶ FREE SHIPPING CANADA & USA
⚶ CRUELTY-FREE, SUSTAINABLE BEAUTY - GET IT NOW
⚶ 100% NATURAL
Get that beautifully even complexion with increased skin elasticity in this phytonutrient serum that reduced wrinkles upto 50% when used in a regimen in third party clinical tests.
This serum brings a concentrated dose of phyto-ceuticals like
Coenzyme Q10, vitamin C and Essential Fatty Acids
to restore skin health and nutrition for a radiant complexion. It delivers the results of $150+ serums on the market in a 100% botanical golden oil that sinks into skin.
---
Who should use it?
If have a
dull complexion
, suffer some
loss of skin elasticity
and feel your skin could be brighter then this serum is for you. If you are looking for a 100% natural and botanical skin oil serum that delivers like a pharmacy grade product, then it's for you.
It is suitable for people aged 25+ and encouraged for people with dry and mature skin. It is safe for sensitive skin.
Being a rich serum, if you have very oily skin, then pass on it and try our Cacay Rejuvanate instead.
---
Third Party Clinical Results
80% had significant reduction in wrinkles, upto 50%
80% had more elastic and firmer skin
76% had more radiant and supple skin
A concentrated boost of high-performance cosmoceuticals like

Vitamin C

,

Coenzyme Q10

and

olive Squalane

reduce blemishes and restore skin vitality. 

Skin is visibly toned and smoother

. 

Antioxidants in exotic berry oils prevent and repair skin damage from the environment by helping 

diminish the look of sun spots and discoloration

.

Essential Fatty Acids (EFA) in plant oils like

Prickly pear

and

Argan oils

help

rebuild skin's elasticity

with high levels of vitamin E

Pollution drains critical skin nutrients daily, leaving it dry, accelerating skin aging. Our botanical Squalane & vitamin E in Argan oil, not only replenish these lost nutrients but lock moisture in and nourish for supple skin
The sun (including winter sun) causes oxidative (UV) damage resulting in spots, fine lines and wrinkles – premature aging. Natural Vitamin A in Rosehip seed oil works to fight free radical damage and smooth out skin for an even complexion
Pure vitamin C and Coenzyme Q10 are high-performance cosmeceuticals that combat premature aging by promoting collagen production for smoother, younger skin
Anti-aging super fruits – Strawberry & Raspberry - are packed with essential fatty acids (Omega 3, Omega 6), Linoleic and Ellagic acids that are known to reduce UV damage, promote collagen and reduce wrinkles




Full Ingredient list:
ARGAN OIL*, ROSEHIP SEED OIL*, CAPRYLIC/CAPRIC TRIGLYCERIDE, SUNFLOWER SEED OIL*, OLIVE SQUALANE, RASPBERRY SEED OIL, STRAWBERRY SEED OIL, TETRAHEXYLDECYL ASCORBATE (PURE VITAMIN C ESTER), TOCOPHEROL ACETATE, APRICOT KERNEL OIL, SEABUCKTHORN BERRY OIL, PRICKLY PEAR OIL*, UBIQUINONE (COENZYME Q10), ESSENTIAL OILS OF FRANGIPANI ESSENTIAL OIL*, YLANG YLANG ESSENTIAL OIL*, LEMON ESSENTIAL OIL*, LIMONENE**, LINALOOL**, CITRONELLOL**, GERANIOL**
* CERTIFIED ORGANIC INGREDIENT
** NATURALLY OCCURRING MOLECULES WITHIN ESSENTIAL OILS

Formulated Without

We're pleased to say that your product is free from:

Parabens
Sulfates
Phthalates
PEG derivatives
Synthetics and fillers
Artificial fragrances

This is a 30 ml bottle.

This face serum is suitable for normal, mature, dry or sensitive skin and it can also be used as a night serum.

This serum is of particular interest for those with aging skin (typically over 50), and can also be used by women in the 30's and 40's for preventative skincare.

This serum contains a potent boost of botanical anti-oxidants and high-performance cosmoceuticals that fight environmental pollutants that causes premature aging, dry and sallow skin

Environmental stress drains skin's nutrients, leaving it dull and sallow. Sun and pollution damage skin by sucking moisture and hurting skin's collagen and elastin (that give skin structure and tone).

Premature aging is the result of these stresses.
Proudly made in Canada we are thrilled to bring you a powerful and healthy skincare solution with pure botanicals and essential oils.