Vienne De-Stressing Cleansing Milk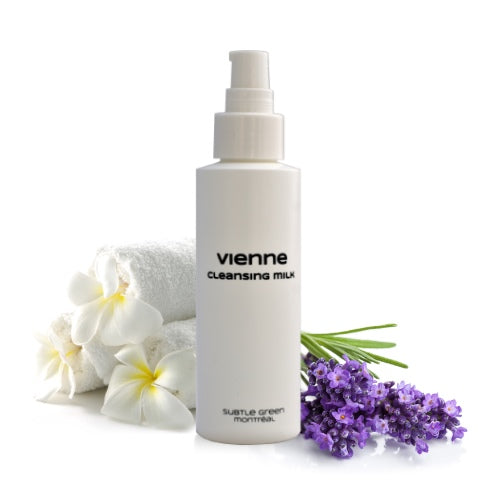 $23.95
⚶ FREE SHIPPING CANADA & USA ON ORDERS OVER $40
⚶ CRUELTY-FREE, SUSTAINABLE BEAUTY - GET IT NOW
⚶ 100% NATURAL
Feeling stressed and overworked? Is your skin showing it too?
Wash your woes away with this uplifting cleanser that combines the soothing effects of lavender with invigorating Lemongrass to bring positive energy to your day. 
This non-drying, all natural cleanser removes dirt and excess oils gently. It will open pores, clear blackheads and calm gentle/ sensitive skin.
It can be used for all skin types and is especially a good choice of cleanser for people with oily skin, sensitive or problem skin that tends to flare up or get irritated easily. A splash of lemongrass and mandarin bring an added aroma therapeutic treat by converting stress to positive energy for an instant boost of optimism.
Cleans and tones without drying or irritating gentle/ sensitive skin
Lavender hydrosol and Lavender essential oil calm irritated, stressed skin
Lemongrass essential oil opens pores, loosens dirt and removes blackheads
Fractionated coconut oil and mandarin wipe away dull skin, dirt and excess oils
Anti-oxidants in Acai help combat free-radical damage and environmental pollutants

Aqua, Lavender hydrosol, Rose hydrosol, Fractionated coconut oil, Polawax NF, Radish Root Ferment Filtrate, Lavender essential oil, Mandarin essential oil, Acai extract, Lemongrass Essential oil, Grapefruit seed extract




Formulated without

Parabens
Sulfates
Phthalates
Synthetics and fillers
Artificial fragrances

This is a 4 fl oz. / 118 ml bottle.

A facial cleanser with a great refreshing scent.
We're proud to bring you a powerful and healthy skincare solution with pure botanicals and essential oils.