Cacay Rejuvenate Serum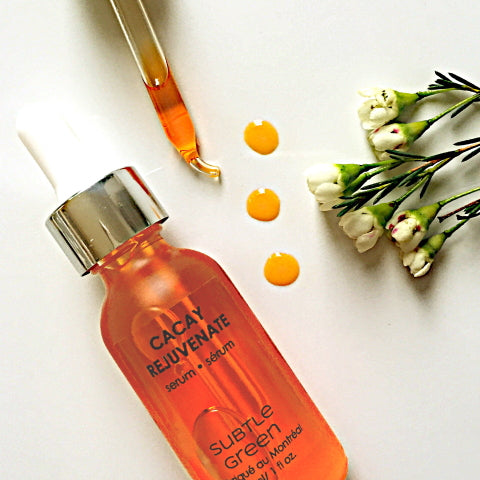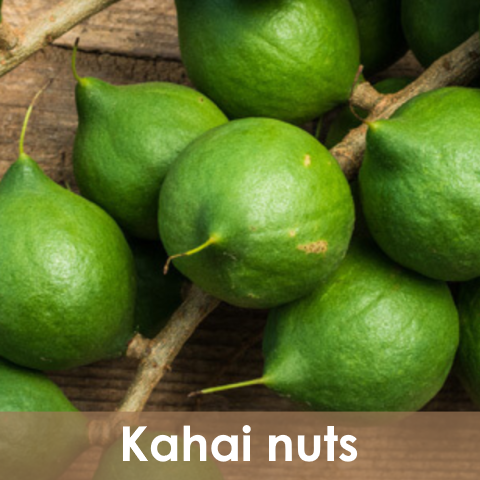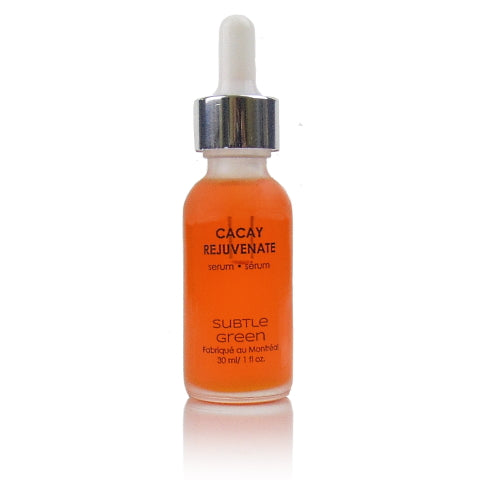 ⚶ FREE SHIPPING CANADA & USA ON ORDERS OVER $40
⚶ CRUELTY-FREE, SUSTAINABLE BEAUTY - GET IT NOW
⚶ 100% NATURAL
Cacay seed oil one of nature's impressive  anti-aging elixirs that has an extraordinarily high percentage of Retinol, vitamin E and Linoleic acid. 

With 3 times the amount of Retinol as Trans-Retinoic acid in Rosehip seed oil and 50% more vitamin E than Argan oil, Cacay (Kahai) oil is a natural elixir that rejuvenates skin and prevents wrinkles and spots by enhancing skin's own regeneration cycle. 

---
Coupled with Squalane from olives and paprika, this Cacay Rejuvenate serum improves skin tone, restores elasticity and radiance to skin. This serum is light, fast absorbing and safe for all skin types including oily or acne prone skin.

Retinol and Trans-Retinoic acid are all forms of Vitamin A. Vitamin A provides an anti-aging effect by enhancing skin's natural renewal process to shed older, dry skin cells on the surface to reveal younger skin beneath
Cacay oil is a natural source of Retinol. Rosehip seed oil has All-Trans Retinoic Acid (ATRA) which is an intermediate ingredient that Retinol is converted to before it can be absorbed and used by skin
Cacay oil has 3 times more Retinol than ATRA in the popular Rosehip seed oil. ATRA may work a little faster as it is can be directly absorbed, but it can also be a little harsh on sensitive skin. While Rosehip seed oil may work a little faster, Cacay oil is richer in Retinol and gentler on sensitive skin, providing significant anti-aging benefits as Rosehip seed oil with an extra punch! 
Cacay oil has 50% more vitamin E than Argan oil. Vitamin E is a powerful anti-oxidant that smooth's rough skin and restores skin's elasticity.
Cacay and Olive Squalane also have high levels of Linoleic acid that is responsible for maintaining skin's barrier function and hydration levels so that skin stays plump and wrinkles appear diminished. 

This serum uses the following natural and organic ingredients:

Caryodendron Orinocense (Kahai) Seed Oil, Squalane (Olive derived), Citrus Paradisi (Grapefruit) Oil, Sambucus nigra Fruit Extract, Capsicum Annuum (Paprika) Fruit Extract, and Helianthus Annuus (Sunflower) Seed Oil, and Rosmarinus Officinalis (Rosemary) Leaf Extract, Limonene**

** Naturally occuring molecule within essential oil

Formulated Without

We're pleased to say that your product is free from:

Parabens
Sulfates
Phthalates
PEG derivatives
Synthetics and fillers
Artificial fragrances

This is a 30 ml bottle.

This face serum is suitable for all skin types and it can also be used as a night serum.
We're proud to bring you a powerful and healthy skincare solution with pure botanicals and essential oils.